Flooring Company Logo and Branding – Vienna Rose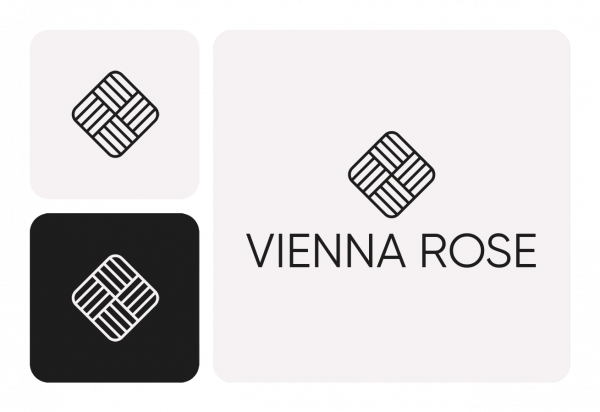 Today, in the competitive market of flooring materials such as parquet, marble, and ceramic, establishing a strong customer base is essential. Vienna Rose Corporation has emerged as a leader in the industry, thanks to its offering of high-quality products at competitive prices. They approached us to create a modern and minimalistic flooring company logo and branding that reflects their esteemed position in the flooring industry.
The design concept drew inspiration from the elegance of parquet wood, particularly for outdoor gardens and gatherings. The logo was meticulously crafted to embody Vienna Rose's minimalist identity while instantly conveying the company's expertise in the flooring industry. It aims to make a strong and immediate impression related to the company's field of business.
We took great care to provide clear guidelines for the usage of the logo and brand identity elements for our client. This included specifying appropriate icons, color palettes, fonts, and backgrounds that can be used in conjunction with the logo. By establishing these guidelines, we ensure consistency and maintain the integrity of the brand across various applications.
We designed a range of stationery items for our client, including letterheads, envelopes of various sizes, business cards, and corporate seals. To provide a comprehensive package, we delivered two copies of each file: one print-ready version for production purposes, and another realistic mockup showcasing how the items will appear once printed. This ensured that our client had all the necessary materials to maintain a professional and cohesive brand image in their correspondence.
As part of creating Vienna Rose's digital identity, we crafted visually appealing post templates and social media banners for various platforms including Facebook, Twitter, and LinkedIn. These designs were carefully tailored to align with Vienna Rose's brand aesthetics and effectively communicate their message to the online audience. By ensuring a consistent and eye-catching presence across social media, we aimed to enhance Vienna Rose's digital visibility and engage their target audience effectively.
Your company logo is your customer's first impression!
Did you like the project? Share it ❤