Optical Store Social Media Management – Bright Path Optics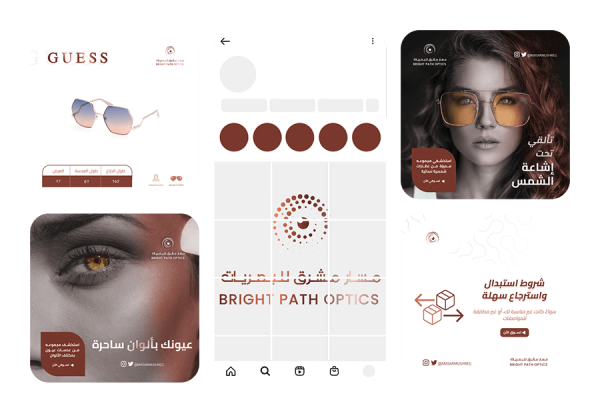 Impressed by our successful collaboration on a previous project, "Bright Path Store" has entrusted us once again with the task of providing optical store social media management. Our goal is to effectively reach and engage with the target audience, showcasing the store's unique offerings and redefining the concept of eye elegance.
We provided comprehensive management of the Bright Path Store's social media accounts on Instagram and Twitter. This encompassed various tasks, such as drafting compelling account descriptions, ensuring a unified brand identity across platforms, adding relevant links, pinning important posts and stories, and designing captivating captions for Instagram posts. Our efforts aimed to enhance the store's online presence, maintain a consistent brand image, and engage effectively with its audience on social media.
Following a thorough analysis of the competition targeting our client's audience, we embarked on a brainstorming process to generate innovative posts ideas. These ideas were then presented to our client for review and approval. Subsequently, we focused on showcasing these ideas through visually appealing designs that effectively communicate the store's message to its customers. Our aim was to create engaging and visually appealing designs that resonate with the target audience and effectively promote the store's offerings.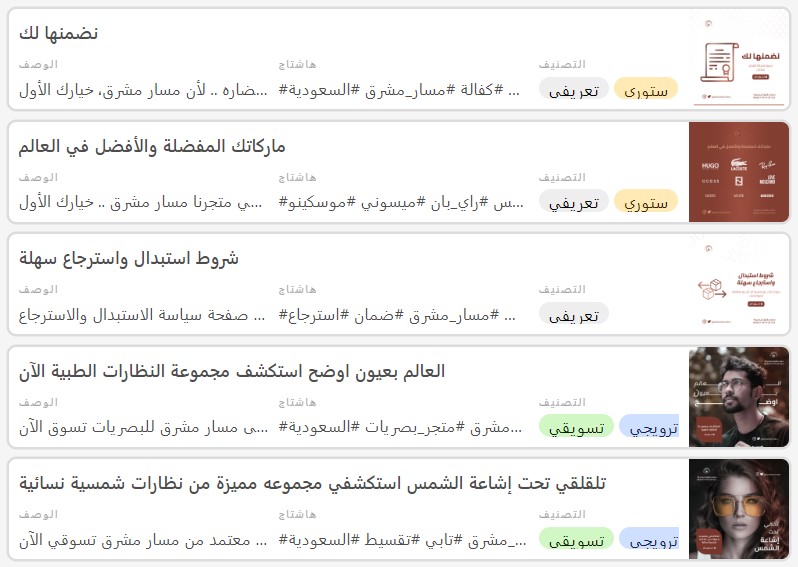 Taking inspiration from the identity of Bright Path Store, we infused our designs with its unique spirit. Given that most of the posts feature the store's products, we were mindful of incorporating subtle elements of the Bright Path identity colors. Our aim was to create visually appealing posts that are not only pleasing to the viewer's eye but also ensure the product images remain clear and prominent. By striking the right balance, we aimed to capture the attention of the audience and create a visually cohesive and engaging social media presence for the store.
We executed a series of targeted advertising campaigns on the Facebook platform to promote the Instagram posts of Bright Path Store. Considering that Instagram is the preferred platform among the target audience, our primary goal was to enhance brand awareness. Subsequently, we aimed to drive increased sales on the online store. By strategically leveraging Facebook's advertising capabilities, we sought to effectively reach and engage with the desired audience, thereby maximizing the store's visibility and driving conversions.
We devised multiple competitions and challenges on the Instagram and Twitter platforms at various intervals to stimulate account engagement. Employing specific techniques, we successfully fostered increased interaction and reached a previously untapped customer segment. Our primary objective was to enhance awareness and drive engagement within the accounts. The outcome surpassed our expectations. Notably, we achieved a remarkable feat by ranking at the top of the popular hashtag #glasses, which encompasses over 3 million posts on Instagram. Remarkably, this achievement was accomplished by the relatively modest Bright Path account, which had fewer than 300 followers at the launch of the competition. Consequently, the account experienced an extraordinary surge in followers, with a remarkable growth rate of 558% in just 7 days.
Comments & Inbox Monitoring
Recognizing that prompt responsiveness is crucial in nurturing customer satisfaction, we meticulously incorporated comprehensive and timely responses to frequently asked questions. Furthermore, we streamlined the process for order status inquiries by facilitating direct communication with the dedicated customer service number. By addressing customer inquiries swiftly and efficiently, we aimed to foster a positive and engaging customer experience.
One of the fundamental pillars of any advertising campaign lies in having a comprehensive understanding of the key metrics. Thus, we ensured that our client had access to clear and detailed performance reports, enabling them to make informed decisions regarding budget allocation. By providing transparent insights into campaign performance, our aim was to empower our client with the flexibility to expand their budget as desired.
Ready to boost your social media presence and take your business to the next level?
Did you like the project? Share it ❤