Perfume Store Social Media Management – Alkhuraiji Manufacture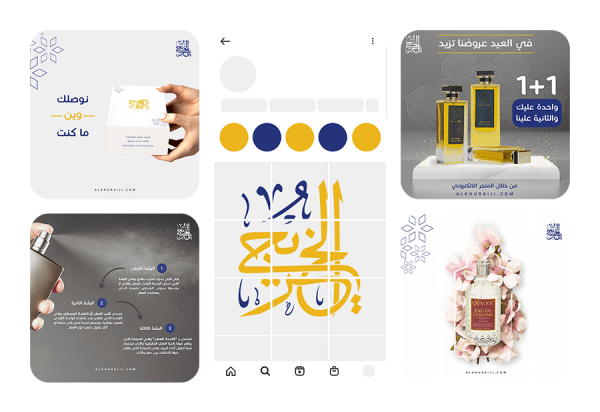 Desline has been tasked with perfume store social media management of Al-Khuraiji Company, which specializes in perfumes, cosmetics, and medical products. Our responsibility is to expand the company's online presence, engage with customers, and promptly respond to their messages and inquiries.
We provide comprehensive management of Al-Khuraiji Company's social media accounts, including Instagram, Twitter, and Facebook. Our services encompass drafting engaging and informative account descriptions, ensuring a consistent brand identity across all platforms, adding relevant links to drive traffic, and strategically pinning important posts and stories for maximum visibility. By managing these accounts effectively, we aim to enhance the brand's online presence and engage with its target audience on multiple social media platforms.
Upon recognizing the common thread of luxury perfume enthusiasts among Al-Khuraiji's target audience, we developed posts ideas that would further strengthen their passion for these exquisite fragrances. Our focus was on creating content that showcases the luxury, elegance, and allure of the perfumes, resonating with the discerning taste of the brand's customers. By highlighting the unique features, captivating scents, and exclusive offerings, we aimed to reinforce the audience's affinity for Al-Khuraiji perfumes and foster a sense of exclusivity and indulgence.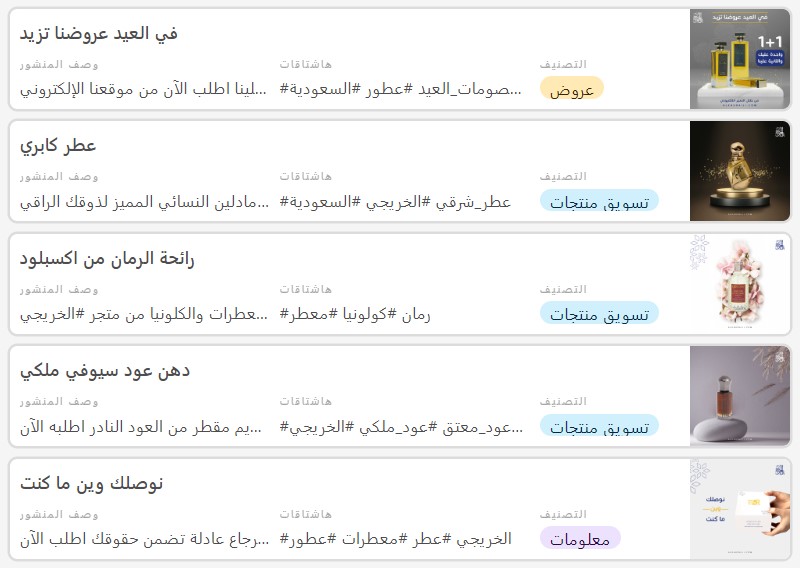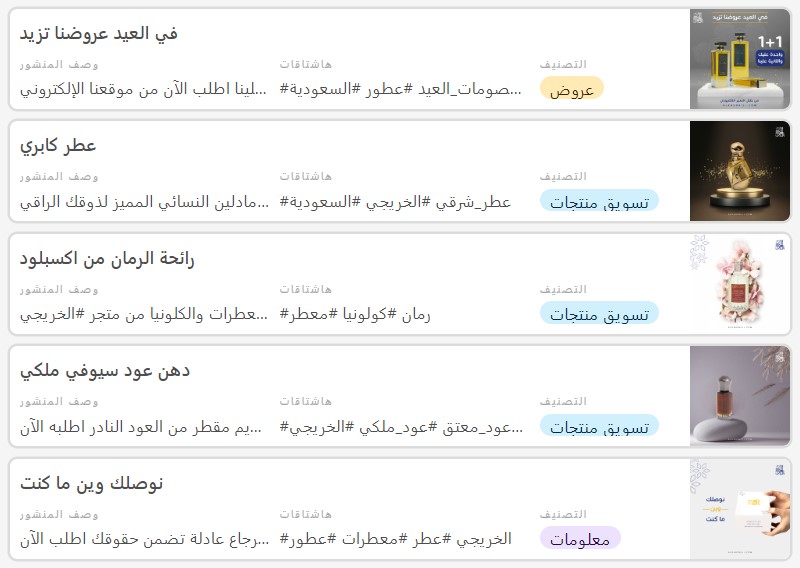 Our design approach for the posts revolved around showcasing the Al-Khuraiji perfume products in a luxurious manner that perfectly aligns with the brand's identity and resonates with its discerning audience. We paid close attention to creating visually appealing designs that would capture the followers' attention and elicit their engagement. By utilizing high-quality imagery, elegant typography, and sophisticated color schemes, we aimed to convey the essence of luxury and create a sense of aspiration among the audience. The designs were meticulously crafted to evoke desire and elevate the perception of the brand, ensuring that each post exudes a captivating allure that leaves a lasting impression on the followers.
To promote the perfume collections and home fresheners, we created captivating promotional videos that showcased the unique characteristics and allure of each product. Through visually appealing footage, elegant transitions, and engaging storytelling, we aimed to capture the attention of the viewers and pique their interest in the offerings of Al-Khuraiji Company. The videos were carefully designed to highlight the key features, scents, and packaging of the products, creating an immersive experience that resonates with the target audience's desire for luxury and sophistication.
Furthermore, we produced a compelling video introducing the Al-Khuraiji factory and its notable achievements. This promotional material was designed to be used in advertising campaigns, allowing the audience to gain insights into the company's manufacturing process, quality standards, and commitment to excellence.
Overall, the promotional videos served as powerful marketing tools, effectively communicating the value and distinctiveness of Al-Khuraiji's perfume collections, home fresheners, and manufacturing capabilities.
Comments & Inbox Monitoring
We have prioritized addressing common questions and providing timely responses, recognizing that promptness is crucial in winning over customers and ensuring their satisfaction.
By analyzing cross-channel conversion data, we were able to gain valuable insights into the distinct audiences for each product. This allowed us to generate reports that provide valuable guidance to Alkhuraiji Perfumes Store, enabling them to effectively target users with content tailored to their preferences.
Ready to boost your social media presence and take your business to the next level?
Did you like the project? Share it ❤