Architecture Firm Website Design – TAMARCH
To set itself apart from competitors, TAMARCH Engineering Office aimed to create a favorable impression on its website visitors. To accomplish this, we prioritized combining aesthetically pleasing and simple design with easy access to the site's most sought-after services.
Our main challenge was to simplify the user's journey through the site and reduce the bounce rate on the home page. We accomplished this by including real pictures from implemented projects in the main interface and creating a clear and colorful header at the top of the page. We also highlighted the main service buttons (architectural design, interior design, and plan modification) in a prominent color.
We aimed to emphasize our client's credibility by selecting authentic pictures from their accomplished projects, accompanied by complete details. We also ensured that the design remained responsive across various screens and devices, without compromising the image resolution, which presented a unique challenge that we were able to tackle effectively.
To add a finishing touch, we gathered numerous videos that provide detailed explanations of architectural plans, space utilization, and furnishing. These videos serve to offer real value to those in the process of building, while also promoting the services of the office.
We consider this as our unique selling point: promising the best service is not enough, the customer needs to see it for themselves. That's why we developed a comprehensive system for clients of the engineering office to track the progress of their project and communicate directly with the assigned engineer.
Construction Cost Calculator
To match the brand's unique identity, we strived to provide exceptional service. We developed a tool that provides an estimated calculation of the cost for residential construction and finishing, which has received tremendous demand from the target audience of the office, including those interested in architectural design and those about to build.
The field of architecture and interior design demands high accuracy, and even the slightest errors can lead to disasters. However, with the design application forms provided by the office, we were able to avoid such issues. We made sure to consider all possibilities and requests.
To simplify the service ordering process for the clients of the office, we developed an online store featuring the two most frequently requested services: plan modification and interior design. This allows customers to complete the application, fill out the necessary form, and make a payment in a matter of minutes.
Search Engine Optimization
Research and keyword setting for every page:

Our experts stay up-to-date with the latest changes in Google's algorithms and continuously search for relevant keywords that TAMARCH Engineering's competitors may have overlooked. These keywords are strategically incorporated into all pages of the website, helping TAMARCH to stand out from the competition and achieve better search engine rankings.
Speed up & compress website files:
Our team understands the detrimental effects of a slow website, which can result in lost leads and sales. We utilize our expertise to identify the root cause of any performance issues and address them promptly to ensure optimal site speed and performance.

We believe that analytics and reports not only reveal the strengths and weaknesses of a website, but also provide transparency to the client in terms of project progress and return on investment. Therefore, we integrated the site with top analysis tools such as Google Analytics and Search Console, and promoted it extensively. We believe that gaining insights is crucial for outperforming competitors.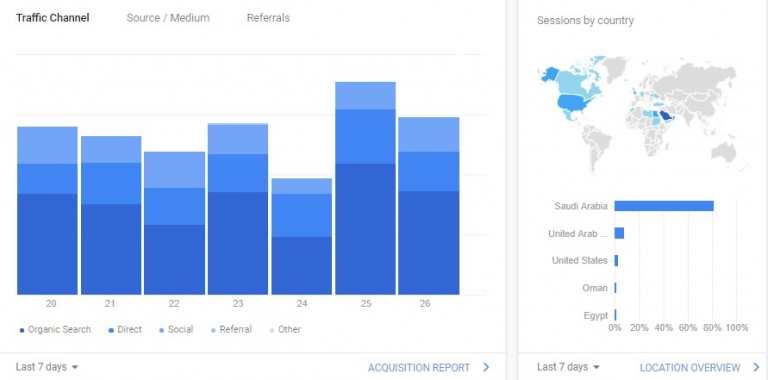 We had a great experience collaborating with TAMARCH Engineering Office and its founder, Arch. Azzam Al Subaie. Working with creative individuals was enjoyable for us.
Within the first few months of launching the site, we observed a significant increase in traffic from search engines.
We are committed to providing ongoing support and maintenance for the site, as well as any additional projects the team may require in the future.

Arch. Azzam Al Subaie
TAM Arch
"We were looking for a reliable agency to design our architectural website and to management our social media pages, and we met our request at Desline. Professionalism in dealing and satisfactory results during the past two years"
Did you like the project? Share it ❤