Carpet Shop Logo and Branding – Quattro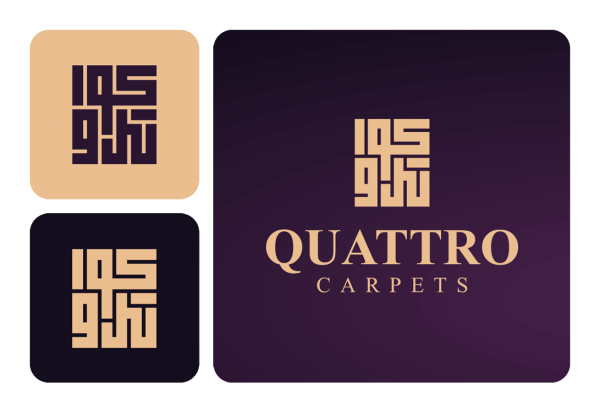 The Quattro store, renowned for its exquisite collection of luxury carpets and rugs, had already established itself as a prominent brand in the industry. However, it sought to elevate its presence further by creating a captivating carpet shop logo and branding identity that would epitomize luxury and sophistication.
We artfully incorporated the square font pattern into the design, drawing inspiration from the geometric shapes and patterns found in Quattro rugs. By doing so, we ensured that the client's brand identity remained visually captivating and engaging, while avoiding any sense of monotony.
We prepared a comprehensive guide to assist the customer in understanding the appropriate backgrounds that harmonize with the logo and visual identity across different platforms. This guide also includes the specified hex colors, fonts, and icons that were carefully selected and utilized in the design process. Our aim was to ensure consistency and uniformity throughout the brand's various touchpoints.
We designed a range of stationery items for our client, including letterheads, envelopes of various sizes, business cards, and corporate seals. To provide a comprehensive package, we delivered two copies of each file: one print-ready version for production purposes, and another realistic mockup showcasing how the items will appear once printed. This ensured that our client had all the necessary materials to maintain a professional and cohesive brand image in their correspondence.
With the dedication and expertise of our team of branding designers, we successfully crafted a digital identity for Quattro that not only showcases the elegance of its luxury carpets and rugs but also captures the essence of its personality and values. Furthermore, we created a visually captivating template for social media posts, stories, and banners, which play a vital role in establishing and enhancing the brand's digital presence.
Your company logo is your customer's first impression!
Did you like the project? Share it ❤