Contracting Company Website Design – Awj Holding Co
AWJ International Contracting Company is a renowned industry leader in the Kingdom, known for its extensive experience and successful completion of major projects across various sectors. Their impressive client portfolio includes prestigious entities such as King Saud University, Riyadh Avenues, and Prince Sultan Air Base, whose notable structures adorn the Kingdom. Desline has been entrusted with the task of developing a contracting company website design that aligns with the company's needs, elevates its local reputation, and helps it thrive in the highly competitive market.
Through concise and impactful text, our website design effectively showcases the excellence of AWJ International Contracting's projects. We emphasize how the company has overcome obstacles and achieved success in tackling formidable challenges, allowing the company's vision to be communicated clearly to visitors.
About Us – Our Services – Our Projects – Register As a Supplier – Media – Contact Us
Search Engine Optimization
Research and keyword setting for every page:
Through an extensive and thorough keyword research process, we analyzed the keywords previously used by AWJ International Contracting and examined the SEO strategies employed by its competitors. Our goal was to identify the most effective and competitive search terms in the market. We were determined to ensure that AWJ's website would not go unnoticed on the front page of search results.

Speed up & compress website files:
We understand the detrimental impact of a slow-loading website, which can lead to missed opportunities and lost revenue. Our team specializes in pinpointing the root causes of performance issues and implementing swift solutions. By conducting thorough analyses, we identify areas for improvement and optimize website speed to ensure a seamless user experience and maximize conversion rates. Rest assured that our expertise will help mitigate any potential losses and enhance your website's performance efficiently.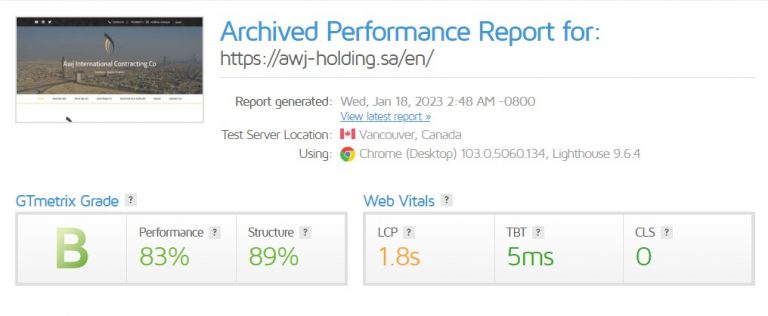 We understand the importance of reports and analytics in providing a comprehensive overview of your website's performance. These insights not only identify areas of strength and improvement but also instill confidence in achieving a positive return on investment. To ensure transparency and success, we have implemented effective strategies to maximize the visibility of your website. By integrating top-notch analysis tools such as Google Analytics and Search Console, we enable you to gather valuable data and gain a competitive edge. Our belief is that the more insights you have, the better equipped you are to surpass your competitors and achieve your goals.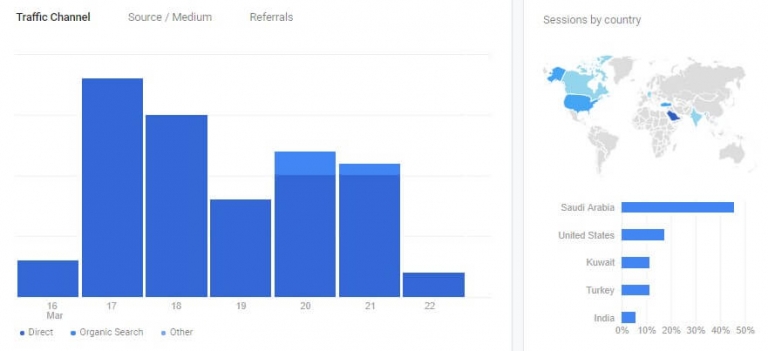 Did you like the project? Share it ❤